New Patients at Enid Live Well
If you're visiting Enid Live Well for the first time, we'd like you to know exactly what to expect. It's our goal to make your visit with us a rewarding experience.
Our office is often described as warm, inviting, glitzy and glam! Our patients love spending time with us. We hope you do, too.
ONLINE FORMS »

Your First Visit
Your first appointment will take about an hour. You'll be warmly greeted as you enter the office and invited to sit down and complete any necessary paperwork. Before meeting with our doctors, you'll also be taken on a brief tour of the office so that you can familiarize yourself with your surroundings.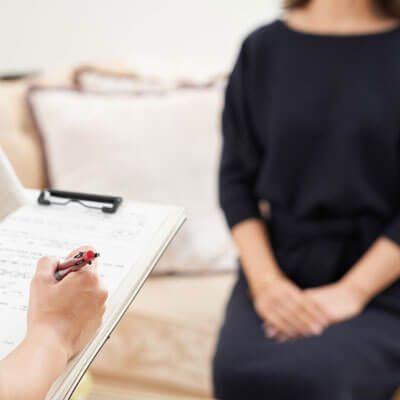 After your tour, you'll be given a thorough exam. The exam includes input from both a medical doctor and a chiropractor. The assessment usually includes
A consultation
An orthopedic and neurological exam
An evaluation of current stress levels
X-rays, if necessary (we'll refer you a nearby local facility)
To provide you with some relief from your discomfort, you'll receive physical therapy and gentle muscle work that could include stretching or vibrational therapy.
Our staff will then sit down with you briefly to discuss financial and insurance details. We want to help you determine a plan of care that will both meet your needs and be kind to your pocketbook.
Your second visit will take about 30 minutes. During this appointment, Dr. Viki Resler White will evaluate your examination and X-ray findings to help you understand the source of your problem. She'll then discuss personalized care options to help you start feeling your best.
You'll then receive your first gentle chiropractic adjustment.
On your follow-up visits, you'll undergo the procedures prescribed by Dr. Viki and Dr. Breckenridge, D.O. Your care can include specific chiropractic care, pain management protocols, rehabilitative exercises, decompression traction, or physiotherapy.
Let's Get You Back on the Road to Optimal Health
To get back on the road to recovery, we encourage you to contact our office as soon as possible. We have the tools and experience to make a difference in your health and well-being. We accept insurance, including Medicare, and same-day appointments are available. Contact us today!
CONTACT US »

New Patients at Enid Live Well | (580) 233-4300